Christmas Love Offering 2017-2018
The Christmas Love Offering is a sacrificial gift in the spirit of the holiday that is over and above our general budget. The gift goes to supporting new and extraordinary projects in Hong Kong and around the world. Through your generosity, a total of $2,881,311 HKD was raised for the 2017-2018 Christmas Love Offering. We would love to share with you how your gift has built up the Kingdom of God and spread the gospel of Jesus Christ in word and in action. Please find a summary of the projects that you supported below:
Sharing the gospel in the Middle East through personal evangelism
Sharing the gospel to Muslim communities in East Asia using Business as Missions strategies
Empowering women who have experienced sexual exploitation by providing job training opportunities and holistic care in Asia
Equipping childcare workers to share the love of Christ to children- at-risk and "left behind" children in East Asia
Providing medical care for children from impoverished families in China as a means to share the gospel
Translating the Gospel of Luke through film, liturgies and hymns to an unreached people group in Indonesia
Promoting church care of orphans in Russia
Equipping and discipling Christians in sharing the gospel to Muslim communities in Hong Kong
Supporting education for Syrian children experiencing the refugee crisis in the Middle East
Empowering women from ultrapoor backgrounds to foster economic growth through savings groups participation in the Philippines
The Christmas Love Offering was used to bless various projects that aimed to share the gospel through different means:
Evangelism: Spreading the gospel: those who are directly spreading the gospel and witnessing (Matthew 28:25)
Support: Ministry that support frontline efforts (Ephesians 4:11, 1 Corinthians 12:12, 28)
Mercy: Serving widows, orphans and aliens; providing relief for those in need. (Matthew 25:24)
Justice: Restoring righteousness in the Kingdom (Micah 6:8, Isaiah 61:8)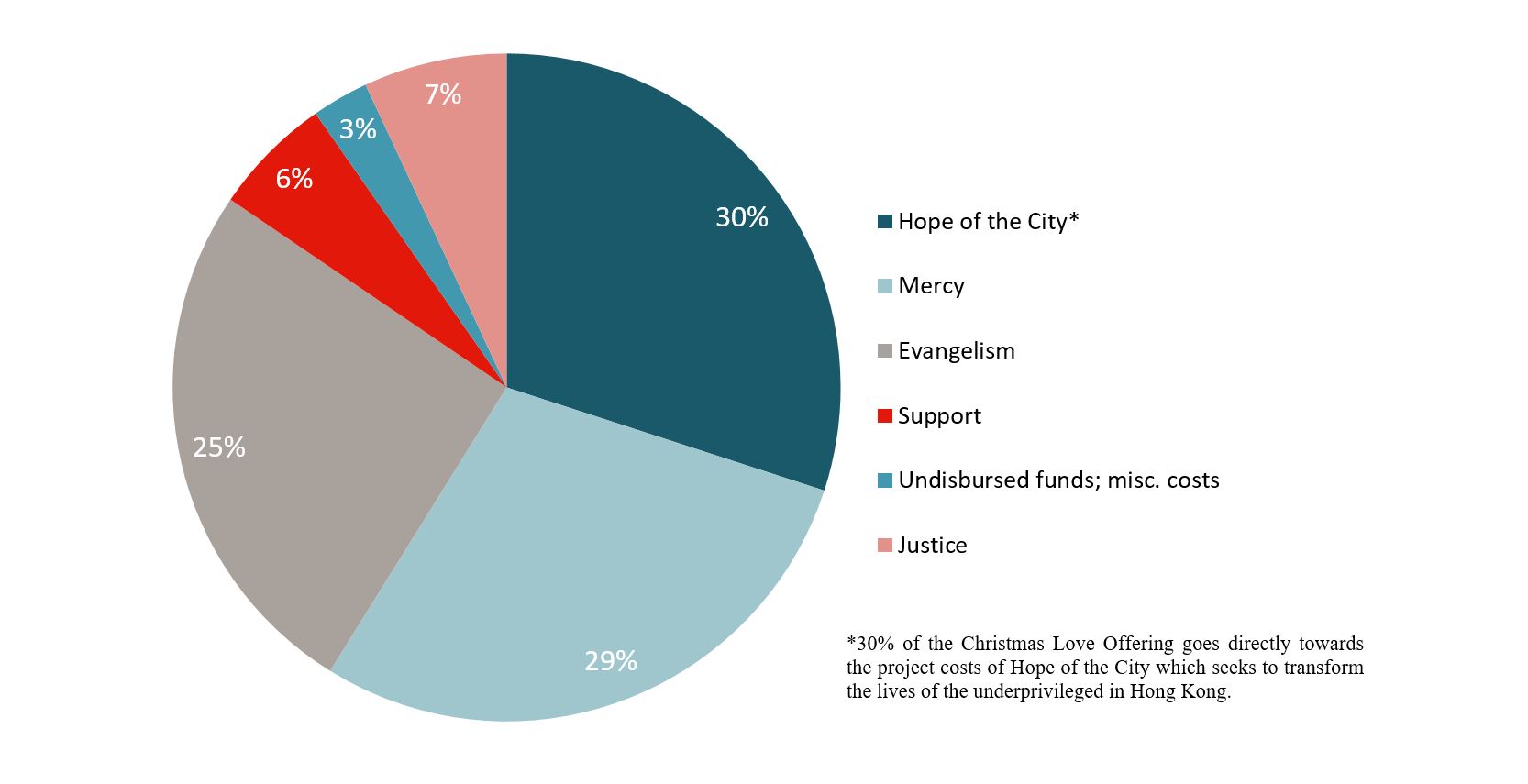 If you have a question about the Christmas Love Offering or want to recommend an organisation or project, please contact .
Thank you for being a blessing to so many in Hong Kong and around the world. Your gift was instrumental in sharing the love of Jesus Christ to others and directly contributed to the great commission of the Church to make disciples of all nations.