Location & Services
Sundays at 633 King's Road are full of life and full of people! Come early to enjoy a coffee on 2F and see more insider tips below if it's your first visit.
Sunday services happen on 1/F, 2/F or 10/F in the morning and 1/F and 2/F in the afternoon. Each floor features live music during services and teaching is delivered via video to 2/F and 10/F. There's a bookstore on first floor, our second floor has a full espresso bar (with very talented baristas!) and 10/F is a family-friendly floor with toddler and nursing rooms available. You'll find services for children on the 9/F and youth services (for anyone aged 11 to 18) are held on the 11/F.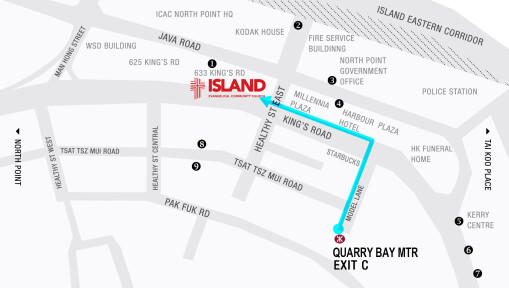 Island ECC
633 King's Road
Quarry Bay, Hong Kong
(852) 2864-9360
Quarry Bay MTR Exit C
Sunday Service Times
9:30 & 11:30am
3pm
Adult services on 1/F and 2/F

Baby and toddler childcare (ages 0 to 2) available on 9/F

Kid's Club (ages 3 to 10) available on 9/F
5pm
Adult services on 1/F and 2/F
*The Family Worship Hall (10/F) is open to everyone during the 9.30am and 11.30am services, but it is designed for families with young children, allowing parents easy access to 9/F Children's Ministries.
Typhoon and Rainstorm Warning
When a Typhoon Warning Signal No. 8 or higher is hoisted or a Black Rainstorm Warning is in effect at 7.30am, all church activities (worship services, bible studies, Care Groups, youth activities, kid's programmes) scheduled at 9.30am or before will be cancelled.
Church activities will resume within 2 hours after the Typhoon Warning Signal No. 8 or Black Rainstorm Warning is lowered or cancelled.