Tangible is more memorable. Our memory isn't so reliable. It often changes with our circumstances so we need to give ourselves memory aids. The more real we can make our memory, even to being able to touch it, the better we remember. Jesus, the great teacher, taught us a tangible way to remember Him through the sacrament of Communion with its elements, the bread and the cup.
In the Old Testament, the Israelites witnessed and experienced one of the greatest miracles in the parting of the Red Sea. They walked across the dry sea bed and watched as their pursuers were swallowed up after them. But surprisingly soon after this amazing event, the grumbling and complaining began and they forgot about the amazing God who delivered them out of Egypt.
After experiencing a similar version of the Red Sea miracle in crossing the Jordan River, Joshua told the people to gather twelve stones to make a memorial.
"When your children ask their fathers in times to come, 'What do these stones mean?' then you shall let your children know, 'Israel passed over this Jordan on dry ground.' For the Lord your God dried up the waters of the Jordan for you until you passed over, as the Lord your God did to the Red Sea, which He dried up for us until we passed over, so that all the peoples of the earth may know that the hand of the Lord is mighty, that you may fear the Lord your God forever." Joshua 4:21-23
We've talked about creating our own Remembrance Stones here at Island ECC. I've always been more of a journalling person, keeping track of answered prayers and high points with pen and paper. But I've come to appreciate the even-more tangible nature of the stones. In writing this devotion, I reflected back on these stones and remembered His goodness: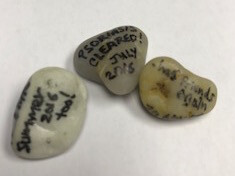 My daughter finding good friends again

Healing and progress in another of my children

My own healing for a skin condition
Looking back on these simple reminders of significant turning points helps me trust Him for the future and I'm looking forward to collecting a jarful of these.
But this I call to mind, and therefore I have hope: the steadfast love of the Lord never ceases; His mercies never come to an end; They are new every morning; Great is Your faithfulness. Lamentations 3:21
Take some time to look back at your "memory bank" of God's goodness today (in whatever form you keep it). Record something in your journal or start your collection of Remembrance Stones. Give thanks for His goodness and trust Him for what's ahead of you.