This past Sunday at our church we heard an inspiring message linked to Chinese New Year that included the way some ancient Chinese characters have significance with Godly and biblical truths. I was reminded of one of my favourite Chinese characters, the one for "listen", which is comprised of six word pictures.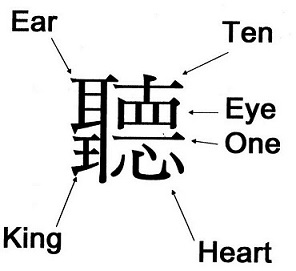 I can easily imagine how this character may have developed in the ancient world with emperors who were to be respected, and personally appreciate how the Asian world developed listening as a virtue in society.
The person who first shared this Chinese character with me was a missionary in China. His way of translating this character was as follows: "If you listen with your ear when you come before the king, it is equivalent in value to having ten eyes to understand his one heart." He further shared that the word would take on even more meaning when you know that Jesus is the King of Kings. Ever since that encounter, I have remembered and treasured this Chinese character. It has added to my growing understanding of the importance of listening and how good listening is much more than simply keeping silent.
The Bible is filled with Scriptures that speak to the value and virtue of listening as characterised in these ways.
The Jewish Shema stands at the center of the Jewish faith to this day in declaring that God is one and that we should love God with all we are. This statement begins with these all-important words, "Listen, Israel."(Deuteronomy 6:4)
When Jesus goes to the Jerusalem temple as a young teen, people are amazed at His wisdom which is shown not by His direct teaching, but by His "listening and asking questions" (Luke 2:46-47).
Mary shows her maturity in favouring "sitting at the Lord's feet listening"to Him rather than being distracted by all else, as Martha was (Luke 10:39-40).
When Jesus is transfigured in dazzling light on a mountaintop on His way to His crucifixion, God speaks from heaven declaring love for Jesus as His Son, and that disciples are therefore to "Listen to Him." (Mark 9:7)
The brother of Jesus, James, exhorts all who follow Jesus to be "quick to listen" (James 1:19).
In our fast-paced modern lives, we may forget the importance of listening as a virtue that should be developed. In our actions we too often move away from the richness of the traditional Chinese character and the biblical concept of listening. We gravitate toward living out the simplified character for "listen" used in mainland China. That character has only a mouth alongside a derivative of the character for hammer. I am at a loss for how this radical linguistic change came about, but it certainly captures what any of us might feel at any day when listening – being hammered with words from someone's mouth!
The visual image for listening in the traditional character shows us how we can listen better.
We can listen with our eyes, fully and patiently engaged, giving full attention to other people. Research by Albert Mehrabian found that three influences affect how well we like a person's communication: words (verbal) 7%, tone (vocal) 35% and visual cues 58%. Eye contact and focus help us listen well!
We can listen with our heart to understand the other person's heart. Too often we do not take the time to attend to others with the open perspective and empathy they deserve. Our friends, spouse, children, parents, and co-workers are always blessed when we take the time to hear their hearts.
We can listen with respect, as if we are listening to royalty, engaging with others as if they are of great value. They are!
This week, my interest was renewed in the wealth of culture that impacts our lives in Hong Kong. This led me back to Godly truths about listening.
How are you doing at listening?