Love Offering 2018-2019
The Love Offering is a sacrificial gift in the spirit of the holiday that is over and above our general budget. The gift goes to supporting new and extraordinary projects in Hong Kong and around the world. Through your generosity, a total of $3,216,937 HKD was raised for the 2018-2019 Love Offering. We would love to share with you how your gift has built up the Kingdom of God and spread the gospel of Jesus Christ in word and in action. Please find a summary of the projects that you supported below:
Theme: Overturning Injustice
Responding to injustice by rescuing the oppressed, bringing delight to the poor and caring for the fatherless
Indonesia: Providing survivors of child sex trafficking a nurturing Christ-centred aftercare home
Nepal: Caring for orphans in a home where they are instilled a model of love, purpose and faith in God
Northwestern China: Caring for orphans with disabilities and impoverished villagers through medical care and education
Pakistan: Providing opportunities for students under religious persecution to go to school, in hope of ending cycles of poverty for their families
Philippines: Pioneering an international response to combat cybersex trafficking and providing aftercare support for survivors
Republic of Congo: Meeting the physical needs of neglected and poor communities by way of building an eye hospital, as well as sharing the gospel in word during village medical visits
Hong Kong: Providing victims of exploitation, abuse and discrimination integrated legal, mental health and social support to help them escape from harmful situations and heal from cycles of trauma
Hong Kong: Providing spiritual and practical care for refugees in Hong Kong
Hong Kong: Offering kindness, dignity and social care to children with SEN/ASD through therapeutic and developmental services
Core Focus: Building up the Church
Doing what only the church can do in building up the global Church
China: Empowering churches to steward God's resources well and encourage generosity
Philippines: Training pastors to shepherd, evangelise and practically serve the ultra-poor communities
Thailand: Supporting a school ministry for missionary children
Vietnam: Providing education for a missionary family
Hong Kong: Pioneering and translating Hong Kong Sign Language devotionals to evangelise the deaf community in Hong Kong
Hong Kong: Providing opportunities for missionaries to be restored, encouraged and refreshed
Core Focus: Remembering the Poor
The poor is at the forefront of God's concerns, and it remains our core focus as well
Hope of the City, Hong Kong: Transforming the lives of the underprivileged in Hong Kong through essential community-based projects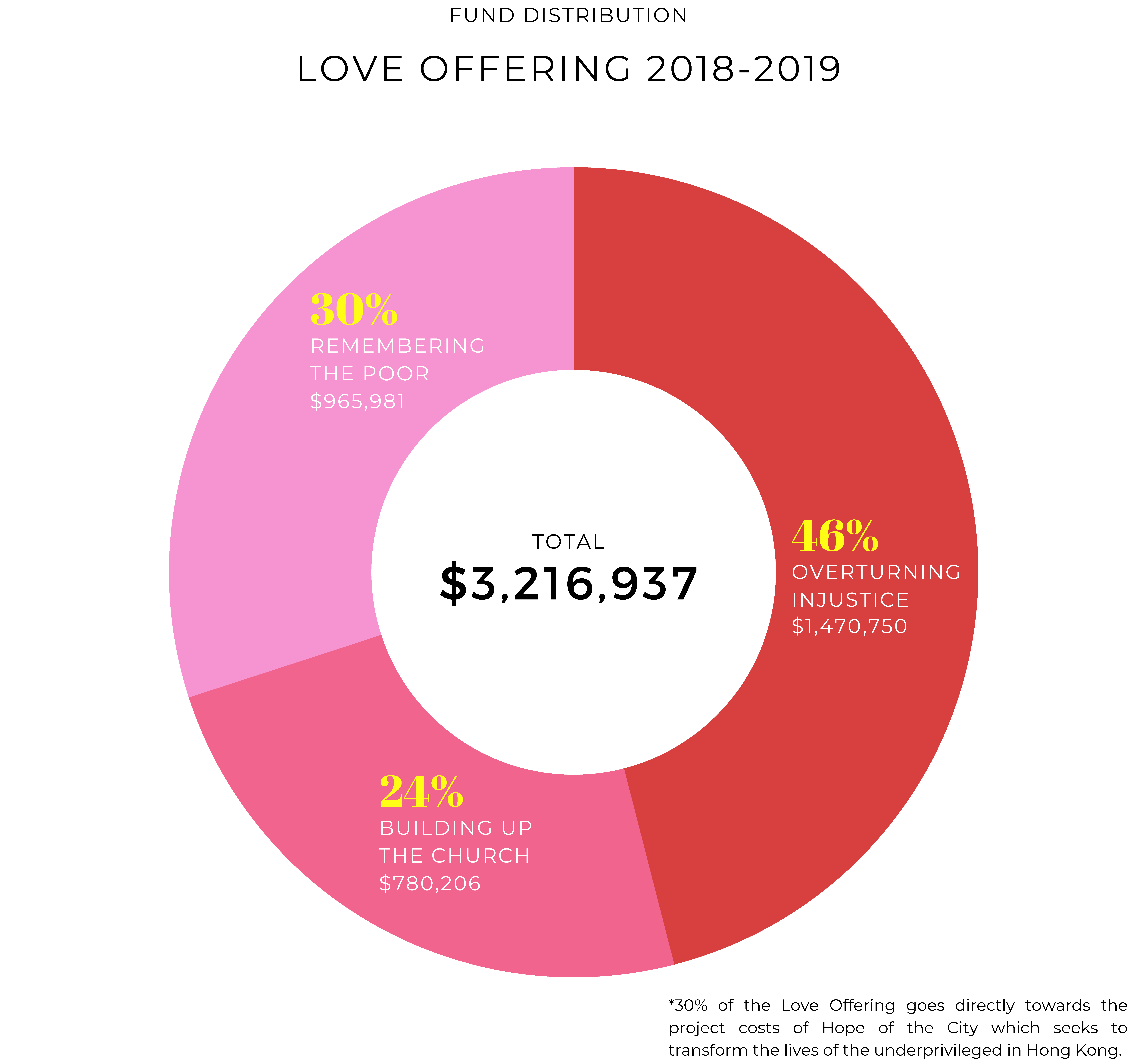 Thank you for being a blessing to so many in Hong Kong and around the world. Your gift was instrumental in sharing the love of Jesus Christ to others and directly contributed to the great commission of the Church to make disciples of all nations.
To make a gift towards this year's Love Offering, please click below. Please kindly make the gift before December 31, 2019.